The Future of Production Starts Here
The world of production is always changing. Atomos Cloud Studio (ACS) provides filmmakers, streamers, and video content producers with an opportunity to embrace new workflows and experience the latest technological advances today.
ACS has been designed to work with the new CONNECT range of products. Whether you're the owner of a Zato CONNECT, ATOMOS CONNECT for Ninja V and Ninja V+, or Shogun CONNECT, ACS transforms the feature set of each device and will change the way you work forever. With a CONNECT device and ACS you'll be able to collaborate in real-time, stream to a range of social platforms, and produce multicamera shows with a virtual control room.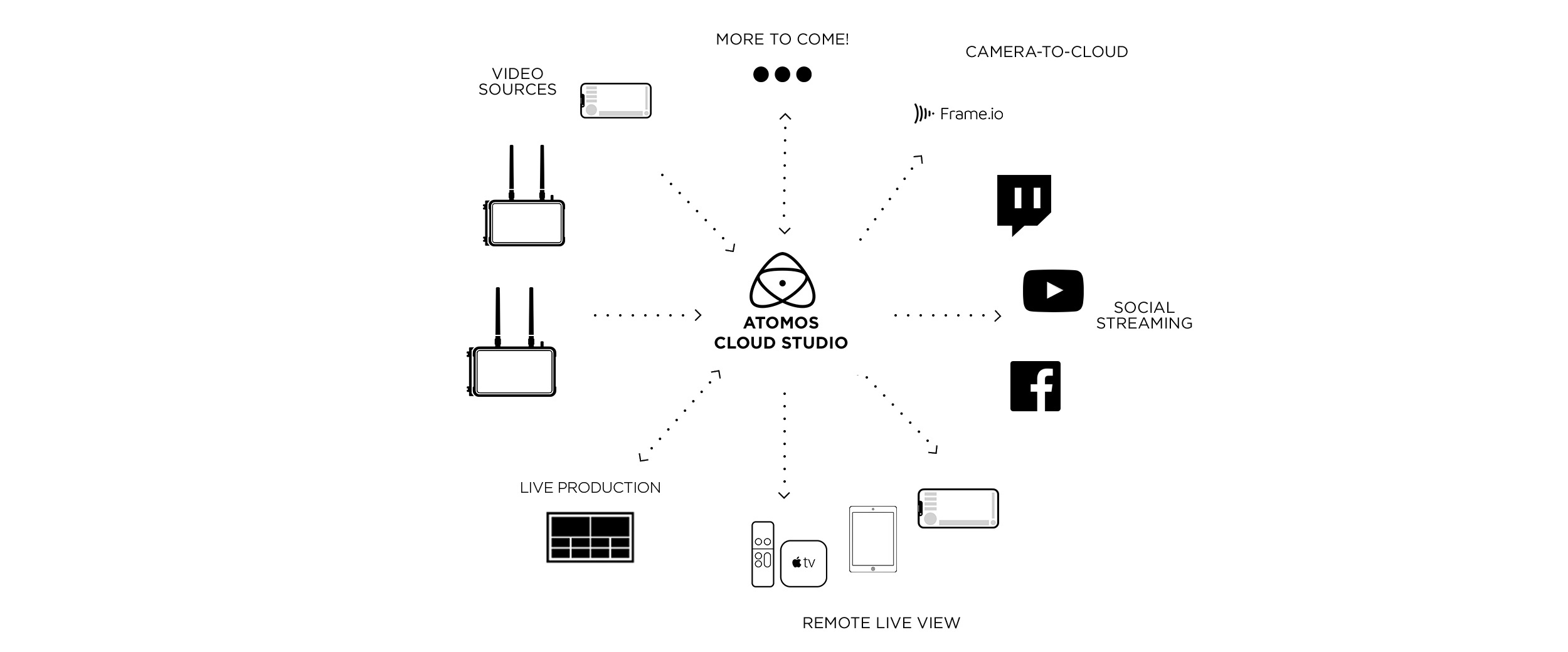 The shift to working with a device in the CONNECT range is a subtle one, but the impact is significant. Zato CONNECT, ATOMOS CONNECT for Ninja V/V+, and Shogun CONNECT feature all the tools for monitoring and recording that you'd expect. They also introduce a whole new, versatile world of cloud services and instantly available workflows. All without a change to the footprint of the hardware. From the edge provided by the ability to record footage in camera, on device, and to the cloud, to the radical reimagining of multicamera production, ATOMOS is the only company in the world to be able to offer a complete solution that marries cutting edge devices with cloud-based services. 
Whether you're launching a new YouTube channel, wanting to collaborate with a small or a bigger production team, or working in traditional broadcast and large-scale features, ACS has a subscription plan for you. Each plan has been designed to offer the maximum amount of flexibility and create access points for everyone. You can select a different plan at any time, which means ACS will scale as your needs evolve.
Subscription plans will be available from January 2023. You can sign-up to the ACS public beta now – for free – to experience Adobe Camera to Cloud (C2C), powered by Frame.io or deliver your first streams and make the most of your new CONNECT device.
Related Products
Explore our range of compatible devices.
Stay up-to-date.
Subscribe for the latest news.