Shrink distances.
Expand horizons.
Video production technology is changing faster than ever as it migrates to the cloud. Atomos Cloud Studio (ACS) brings the cloud's advantages directly to filmmakers, live streaming producers and video content creators. It's a new and affordable way to embrace the latest advances in video production technology.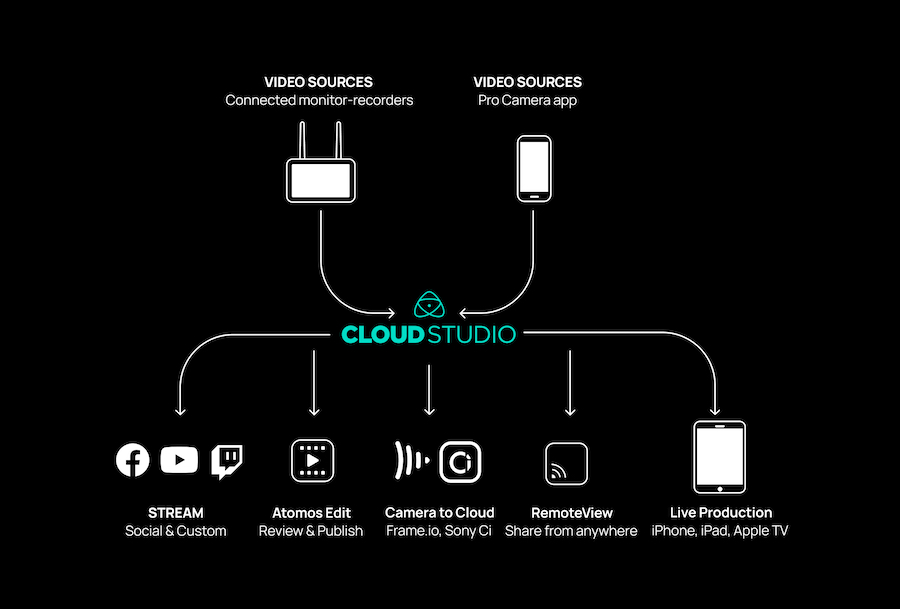 The Atomos gateway
ACS is the Cloud Service component of the Atomos Connected range of monitor-recorders: Zato Connect, Ninja or Ninja Ultra (fitted with Atomos Connect), Shogun and Shogun Ultra. It transforms and extends the feature set of each device and will probably change the way you work forever. With a Connected device and ACS, you'll be able to access camera-to-cloud, collaboration and review, cloud editing, live production, and much more.
The Connected range with ACS features all the tools for monitoring and recording that you're likely to need in a modern mobile production, together with a whole new, versatile world of cloud services and instantly available workflows. All without a change to the footprint of the hardware.
Transform your workflow
Atomos is the only company with complete vertical integration of video capture hardware and cloud services. It provides a gateway between cameras from all major manufacturers and the cloud.
With a decade of compact, portable video acquisition and encoding experience, outstanding portable HDR monitors and integrated wireless network connectivity, Atomos is now the go-to solution for every kind of video production.
ACS is affordable, and scalable with your projects, from small and independent teams to broadcast or feature films. Each subscription plan is flexible, and you can change it up or down at any time.
Related Products
Explore our range of compatible devices.
Stay up-to-date.
Subscribe for the latest news.